Stu Apte is an international fly fishing legend with a rich history of adventure spanning from sea to the sky.
We are excited to celebrate the release of the Stu Apte Signature Series Fly Rods by Reilly Rod Crafters: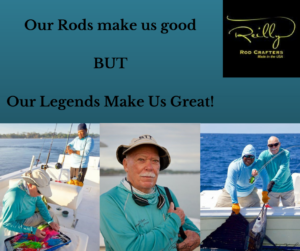 Stu Apte said of these fishing rods, "For me, sight-fishing is one of the most rewarding types of angling. There's nothing quite like spotting your adversary, then making your cast and watching the fish turn, follow and take your offering. Whether you're after a wary trout in a spring creek, stalking coastal flats for bonefish, redfish and tarpon, or plying the blue waters for billfish, the most critical aspect for success is delivering your fly with both speed and accuracy. I have designed these rods to be lightweight and easy casting so you can put your fly on target with minimal effort. These rods do it all!"
Order from Reilly Rod Crafters
We also invite you to join the adventure in the tales of Stu's new book: My Life in Fishing
Simply click on the book cover to learn more or Order Below:
My Life in Fishing is 272 pages on 4-color, high-gloss paper. Stu is happy to personalize a copy to, or for, anyone who would like it personalized when you purchase through this website.
| | |
| --- | --- |
| My Life in Fishing: Paperback, personalized copy – $29.95 plus Shipping and Handling | My Life in Fishing: A LIMITED EDITION of only 200 copies – $300 (FREE S+H) |